A pill a day till the cravings go away
Smoking is addictive: if you could quit alone, you would have done it by now. We designed a 3 month program that will make you a quitter. And the best part? It's likely covered by your drug plan.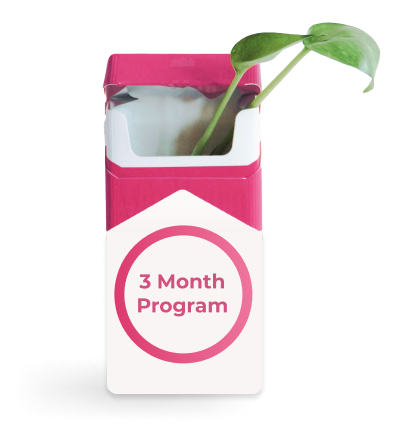 Let us be your piece of mind


Insurance coverage, starting at $0

Direct Nation-wide Shipping

Quit Smoking by stopping your cravings. Prescription treatments are proven to be among the most effective methods to stop smoking and they work by targeting your body's cravings and weakening them.

We don't currently have a way to schedule patients for follow-ups and we are not providing follow-ups at this time.
Kick the habit. For good.
A simple plan that combines medication and coaching, shown in studies to double your chances of success. The full program is $225 ($75/month), and is covered by most drug plans.
* A prescription will only be written if deemed appropriate after digital consultation with a licensed medical provider
This treatment mimics the effect of nicotine, reducing cravings and relieving withdrawal symptioms
Test at home or at work and get results in 15 minutes
Complete our smoking quiz to be reviewed by one of our health practitioners
Subscribe to your customized 3 month plan
Fast and free follow-ups with your medical team whenever you need a change
Jill Health takes pride in providing the best for our customers. Connect to a team of medical support staff to help coach you through your journey.
Complete a hassle-free consultation with your pre-paid $20 so our medical team can understand your symptoms and medical history to pick what treatment works best for you. If you already have a prescription and would like to transfer—Transfer RX.
You pick a target quit date within 7 days of starting the medication and can continue smoking during that period until, eventually, you'll notice the cravings start to go away. You may even start disliking smoking. Basically: the closer you get to your quit date, the easier it'll be to quit.
It's quitting day! Throw out your smokes and tell all your friends. By now you probably can't stand the smell or taste of smoking.
Smoking is part addiction and part habit. Medication does a good job at dealing with your biological addiction, but the habit part? That can take a bit longer to change. After your quit date, it's recommended to continue the full course of medication to ensure that you've sustainably and definitively ended your reliance on smoking.
Frequently asked questions about Smoking Cessation
We take your healthcare seriously
Jill Health is backed by some of Canada's leading medical providers for women's health.
Complete your online visit to receive a treatment plan today
Complete your online visit to receive a treatment plan today